Sesame Tofu is my OTHER favorite Chinese food. This was actually my first time making it and I'm impressed with how accurate it was, considering I was winging it.
Ingredients:
1 block tofu, pressed.
enough vegetable oil for 1/4" deep in your pan.
1-2 Tbsp sesame seeds
2 Tbsp sliced scallions (optional)
Batter:
2 Tbsp ground flax seed
4 Tbsp cornstarch
1/2 tsp baking powder
pinch of salt
1/4 c water
Sauce:
1/3 c maple syrup
4 T soysauce or braggs. I used half and half.
2 Tbsp ginger
3 cloves garlic
2 Tbsp sesame oil
2 1/2 Tbsp rice vinegar
1/4 c water
1 Tbsp cornstarch
Step 1: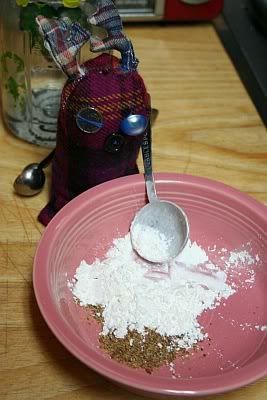 Mix your batter. It should be like thin pancake batter.
While your vegetable oil is heating up over medium high, slice your tofu into squares.
Dunk them in the batter and lay them in the hot oil. Remember to lay them away from you, so you don't splash yourself with hot oil.
The batter wont turn golden brown, it will just get crispy. Fry the tofu for about a minute and a half per side.
I apologize for the lack of pictures, but expensive camera + batter + hot oil = disaster so...
Step 2: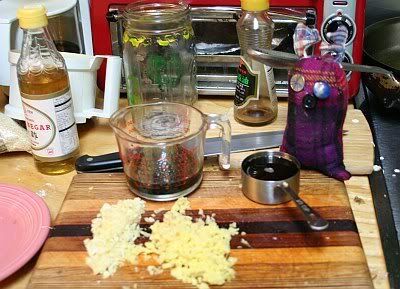 In a tablespoon of reserved fry oil, fry the ginger and garlic. Careful not to burn the garlic or it will get bitter.
When they are soft, add the soy sauce, vinegar, sesame oil and maple syrup.
Stir water and cornstarch into a slurry and add to sauce.
Bring to a boil and allow to thicken.
Toss the tofu with the sauce and sprinkle with sesame seeds and garnish with scallions. Serve over rice and broccoli.