Recently I had a very intense craving for brussel sprouts. I had only had them once before, but I remembered them being delicious. After about a week of constant sprout contemplation I finally got my hands on some and set to work.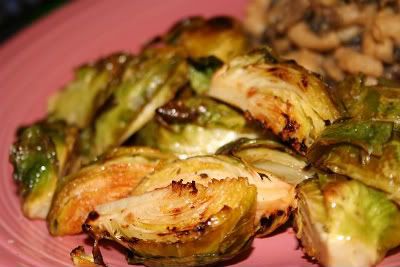 Ingredients:
-Roughly 1 lb of Brussel Sprouts
-the juice of 1 Lemon
-1 or 2 Garlic Cloves, grated or minced fine
-2 Tbsp Olive Oil
-1 tsp salt
-1/2 tsp pepper
-1/2 tsp mustard (optional. It helps emulsify the dressing so it doesn't seperate and stays on a little better.)
Set your oven for 400 degrees.
In a large bowl mix the lemon juice, garlic, mustard, salt and pepper. Whisk vigorously while drizzling in the olive oil.
After washing your brussel sprouts and pulling off any bruised or otherwise icky outer leaves, cut them into quarters.
Toss the sprouts in the dressing until well coated and then transfer them to a baking sheet and arrange them in a single layer.
Bake for about 10 minutes or until they're a nice crunchy brown.
Enjoy!