So its summer, which means its herb season! I bought myself a few herb plants from the farmers market and I'm super excited.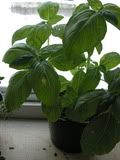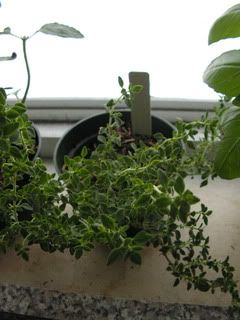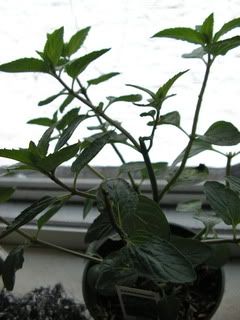 Basil, Lemon Thyme and Mint!
In celebration of summer and mint I made strawberry mint lemonade, which is pretty much the most refreshing thing I've ever tasted.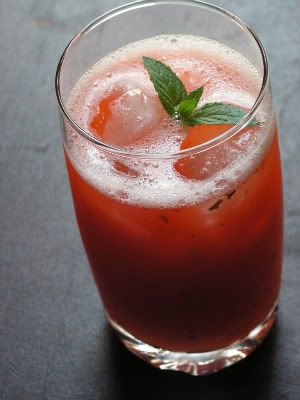 1 cup water
1/4 cup raw sugar or maple syrup
2 cups cold water
The juice from 3 or 4 lemons
1 cup strawberries
a handful of mint
Put the sugar and 1 cup of water into a pot and heat until sugar is completely dissolved. Set aside to cool.
In a blender, pulse everything until there are no strawberry chunks left. Be careful not to overload your blender or you'll end up with lemonade on your ceiling and your floor. I started by only putting in 1 cup of water and mixing in the rest once everything was blended, just to thin it out.
This makes about 4 cups of lemonade, maybe a bit more.
I also picked up some garlic scape, which is one of my personal favorites. Garlic scape is the plant from the garlic bulb. It looks and feels a bit like asparagus but it tastes like garlic.
If you slow roast them, they get sweet and soft like roasted garlic. I like the garlic bite so I just quickly sauteed them.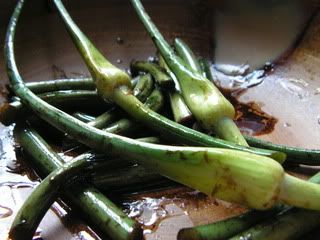 3 or 4 garlic scape
1 teaspoon oil or margarine
2 Tablespoons balsamic vinegar
Cut the scape into 2" or 3" pieces.
Heat the oil in a pan on medium high.
lay the scape in the pan in an even layer and sautee for 3-5 minutes or until they start to take on a little color, but are still firm and crisp.
Add the balsamic vinegar and let it reduce slightly.
Remove from heat.
This would be really good with roasted potatoes and tempeh or maybe over a salad. I just ate it alone and barely shared with my gentleman. Poor him...oops.
I'm working on getting this whole thing regular and updated.
Until next time!