These were supposed to be chocolate chip scones, but somewhere along the line I forgot about the chocolate and ended up looking at chocolateless scone dough and a pile of chocolate chunks. The solution was clear and huzzah happy mistakes! The scones themselves are slightly less sweet than traditional scones, which blends really nicely with the sweetness of the chocolate.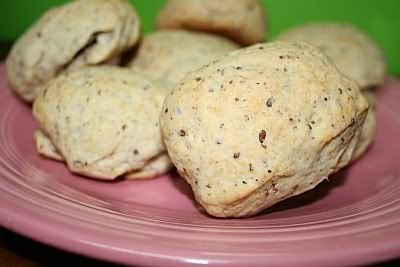 Ingredients:
2 c flour
3 Tbsp brown sugar
1 Tbsp baking powder
1/2 tsp salt
6 Tbsp vegan margarine (I use earth balance brand)
1 1/2 c chocolate chips
1/3 c "milk" (I used soymilk but any milk alternative will work)
2 flax eggs: 2 Tbsp ground flax, 6 Tbsp water, 1 Tbsp oil
Preheat the oven to 400 degrees.
Step 1: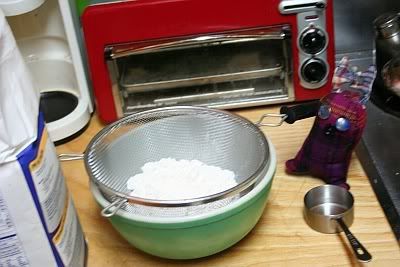 mix flour, baking soda and salt in a big bowl. I sift them together but its not vital.
Step 2:
Mix together your flax eggs, milk and sugar
Step 3: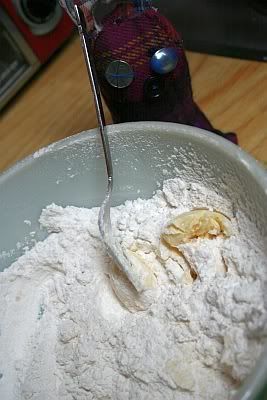 cut in* your "butter". You want the mix to be the texture of breadcrumbs.
If you're making chocolate chip scones instead of chocolate filled scones, now would be a good time to throw in your chocolate chips.
*you're essentially cutting the butter into teeny teeny pieces so that little tiny balls of butter are surrounded by flour. This means when it bakes, all those tiny balls of butter melt and make it all flaky and delicious. I just use a fork to mash up the butter with the flour. Try and keep your butter cold or it will just make a gooey mess instead of cutting in properly.
Step 4:
Mix till it forms a dough, then turn out onto a floured surface.
Knead it for 15 seconds and roll it into a 2" thick circle.
Step 5: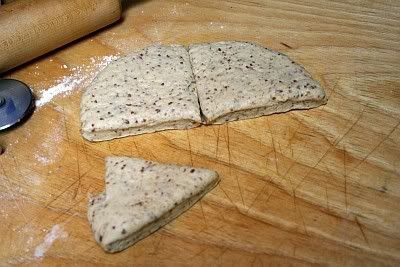 Use a pizza cutter to cut the circle into 8 triangles.
Step 6:
pile your chocolate on the biggest part of the triangle then fold the little corner up...
then pinch the seams closed. You want to make sure there are no holes or else the chocolate will leak out and be messy.
If you're into that kind of thing, feel free to sprinkle some sugar on top before baking.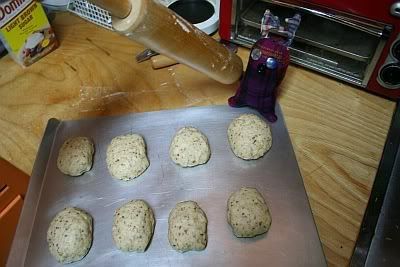 Squidgy reigns over his scone kingdom.
Step 7: Bake for 20-25 minutes or until the top is lightly browned. Don't let them get too brown or they'll be hard and dry, which is no fun.
Let them cool for a few minutes before you eat them because that chocolate is nuclear straight out of the oven and you will burn your face off. I've seen it happen.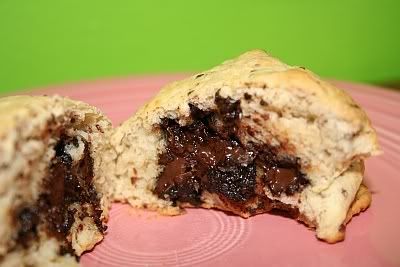 NOMNOMNOM